Trinity Christian Chapel is supported by  staff and an impressive network of diligent and committed volunteer ministry leaders. The collaboration among staff, outreaches, and ministries is integral to the mission and vision of TCC. We are extremely appreciative of all those who serve so faithfully.
Staff Categories: Staff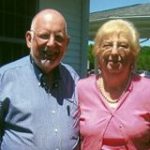 Nelson and Nancy have been married for 57 years and have 4 children, 7 grandkids, and 8 great grandchildren!!  Nelson has been serving as a pastor for 54 years, and his wife, Nancy, has been by his side leading music, serving as a deaconess, speaking at women's events and leading countless classes for adults and… Read More »
Read More
Children & Youth Pastor; Elder
Tony and Tracy have been married 19 years and have three children: Anthony (23), Mason (18) and Peyton (14).  They have been attending the church since 2009, when they both began serving in youth ministry.  Tony received his Bachelor's Degree in Biblical Studies and his Master's Degree in Religion from Cairn University.  In addition to… Read More »
Read More
Serving as worship leader since early 2013.
Amy is a Licensed Professional Counselor, and prior to that an Event Coordinator. She uses the gifts and skills developed from these professions in her role as Administrator to uplift, encourage, and coordinate the many people & personalities, events & activities that bless the halls of TCC year after year, and according to Amy, she "loves serving the house… Read More »